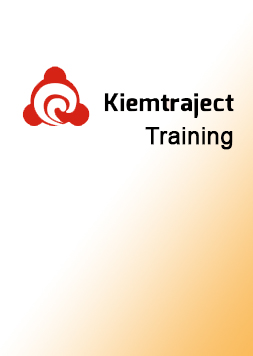 Training effectief intervisie begeleiden
Productomschrijving
EEN PRAKTIJKGERICHTE TRAINING VAN 2 DAGEN
Wil je de werkvorm intervisie met een hoog leerrendement introduceren in je organisatie? Zoek je naar manieren om het leereffect van bestaande intervisiebijeenkomsten te vergroten? Schrijf je dan in voor de training effectief intervisie begeleidien in organisaties. Dan ervaar je hoe je deelenemers van en met elkaar kunt laten leren over persoonsgebonden werksituaties. Volg daarom de cursus 'effectief intervisie begeleiden' bij Kiemtraject.
In de training doe je ervaring op met het positief beinvloeden van groepsdynamiek en waarborgen van onderling vertrouwen. Je leert met de groep te onderzoeken wat de vraag achter een vraag is. En weet hoe je verschillen tussen deelnemers tot meerwaarde kan maken voor het leerproces. Er is nadrukkelijk ruimte voor jouw eigen begeleidingsstijl en de training is erop gericht de nieuwe kennis te verweven hiermee.
Als actieve deelnemer ontvang je na afloop een certificaat als bewijs van deelname van Kiemtraject. Het cursusmateriaal bevat veel handvatten en introduceert praktisch toepasbare intervisie methodieken voor gebruik bij verschillende soorten vragen.
De training wordt gegeven door twee trainers: Gusta Semmelink en Jan-Willem  Lafleur
Data mogelijk in overleg bij minimaal vier aanmeldingen.
De training kan incompany worden gegeven en als onderdeel van een intervisie – implementatie traject in je organisatie.
Dag 1
9:30 tot 16:30 uur
–  helder krijgen van het dilemma, ontdoen van franje tot een kernachtige vraag overblijft
–  veiligheid in de groep brengen en waarborgen
–  stimuleren en uitnodigen tot het stellen van verdiepende vragen
–  het kiezen van een intervisie methodiek
–  helder presenteren van de regels en intervisie stappen
Dag 2
9:30 tot 16:30 uur
–  sturen op het proces en leerwinst voor alle deelnemers
–  interventies die helpen met:
oordelen of suggestieve vragen van deelnemers
helpen bij het vormen van open vragen
breedsprakig of terughoudense deelnemers
doorbreken van oppervlakkige besprekingen
het positief beïnvloeden van de groepsdynamiek
Doelgroep:
Beginnend en gevorderd intervisiebegeleiders, vrijwilliger of professional die werkt met intervisie groepen of die intervisie als werkvorm in de organisatie wil introduceren.
Duur :
2 dagen
Kosten :
€ 675,- inclusief cursusmateriaal lunch koffie thee en water
Deelnemers :
Max. 10, minimaal 6 deelnemers per training
Resultaat :
Het begeleiden van een intervisiegroep levert hoger leerrendement op en gaat je vanzelfsprekender af. Daarnaast ontvang je na afloop een deelnamecertificaat.
De trainingen worden gegeven in Leusden:
Kantoor `t rond
Eerste verdieping van het kantoorgebouw
De Mulderij 4 – 3831 NV Leusden
Liever de module volgen met je team? Laat het ons weten per e-mail via welkom@kiemtraject.nl
€

675,00 incl. BTW