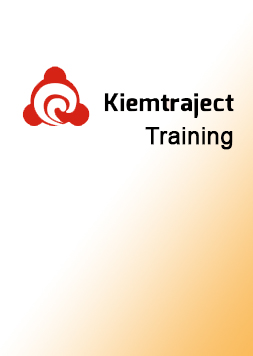 Verkopen van complexe diensten en producten
Productomschrijving
VERKOPEN VAN COMPLEXE DIENSTEN EN PRODUCTEN
Verkopen is een vak en hierin succesvol zijn kun je leren. Ook als de producten of diensten complex zijn is het fijn als je van te voren kunt ervaren hoe het is om je verkoopkunde in te zetten. Dat effect is nog groter als anderen met je meedenken over vragen die je tussentijds tegenkomt. Volg daarom de opleiding 'verkopen van complexe diensten en producten' bij Kiemtraject.
In de opleiding doe je ervaring op met de Spin methode (Rackham, N.) voor het klantcontact. Je leert extra vaardigheden voor klantcontact en producten of diensten succesvol aan te bieden en te presenteren. Ook ontwikkel je jouw eigen stijl om gesprekken vorm te geven waarin het belang van de klant hand in hand gaat met de verkoop. Praktische training die direct een positief effect heeft op je beroepsuitoefening en bedrijfsrendement.Verkopen op een manier waar je energie van krijgt!
Als actieve deelnemer ontvang je na afloop een certificaat als bewijs van deelname van Kiemtraject.
Data : in-company in overleg
Voorbereidende opdrachten
Intake en telefonische voorbereiding 1,5 uur
Samen met een buddy 2 maal 2 uur
Dag 1
9:30 – 17:00 uur
Tussentijdse opdracht
Samen met buddy 2 maal 1 uur
Dag 2
9:30 – 17:00 uur
Doelgroep:
professionals voor wie het voelt dat ze in de knel komen zodra extra producten of diensten onder de aandacht bij de klant gebracht moeten worden
Duur :
getal dagen
Kosten :
1250,00 euro exclusief btw inclusief cursusmateriaal, lunch koffie en thee
Deelnemers :
Max. 6, minimaal 4 deelnemers per training
Resultaat :
Na afloop ontvangt u een deelnamecertificaat
De trainingen worden gegeven op uw locatie
Alternatieve locatie Leusden:
Kantoor `t rond
Eerste verdieping van het kantoorgebouw
De Mulderij 4 – 3831 NV Leusden
Klik hier voor meer informatie en plattegrond.
Liever de module volgen met je team? Laat het ons weten per e-mail via welkom@kiemtraject.nl
€

1.250,00 incl. BTW